Please note that due to the volatile nature of the gold silver and rare coin market all prices listed below are good indications as the current value of the coins listed, and can be expected to be 85%-95% accurate on the day of publication. But in no way do the prices listed represent the value of all coins that fit each description. In some cases the coin can be either a very high quality coin in each category or be a very rare coin for any one category. In these unusual cases the price of an item can be considerably different than the price listed. Please keep in mind that the prices listed are for coins in average condition and of dates most commonly found for each coin type. It should also be understood that bullion prices in the precious metal markets are always changing and directly influence the value of gold and silver coins. At times, certain types of coins come under high demand and with a fixed market economy such as in the precious metal and rare coin markets, it is common that premiums paid or discounts given, to acquire certain items can change without notice.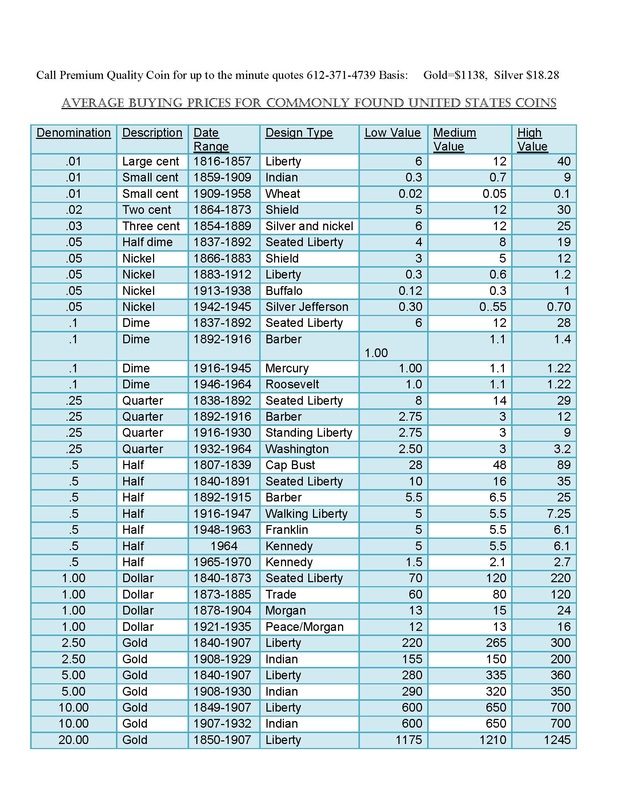 Getting your coins ready for appraisal.
INSTRUCTIONS ON HOW TO DETERMINE THE VALUE OF A COIN COLLECTION
Determine whether your coins are an accumulation or a collection. Doing so is easy. Just ask yourself these questions:
Did the original owner purchase any individual coin for more than $75.00?
Are the coins organized in folders or albums?
Does the collection include an inventory list, which details dates, conditions, and descriptions?
If you answered yes to two of these questions you most likely have a collection of coins that may require a professional appraisal. If you could not answer yes to any of the questions then you most likely have an accumulation of coins. Accumulations require much less time and expertise to evaluate and may even be a task that an individual armed with a good price guide, a grading guide and some free time, can tackle with excellent results.
If you are interested in taking on the challenge of evaluating an accumulation or a collection you will need a current price guide (we recommend the Blue Book of United States Coins, dealer buying prices, Author: RS Yeoman), and follow these steps to make the process most efficient:
Sort your coins by denomination (separate dimes from nickels from cents etc).
Sort your coins by design type (image on the coin), Buffalo, Jefferson's, Liberty Heads etc.
Pick out all the coins in each group that of are exceptional quality (pile #2).
Reference your price guidebook and make a note of the three to six most expensive (rarest) coins in each of the design type categories and put them in a separate pile (pile #3).
You now have your coins broken down into three piles for each coin design:
Pile #1 will be the largest and represents the most common coins in average condition,
Pile #2 will contain coins that have special value because of their condition.
Pile #3 will be coins whose values are based on their rarity.
Coins in pile #1 are most likely worth the prices listed on the PQCoin "Average Value of US Coin Price List."
For coins in piles #2 and #3 you will look each coin up in the blue book. In the beginning of each section the book will instruct you how to determine where the mint mark is (where the coin was made) and a description on how to grade the coin. Never attempt to grade and price rare coins above an EF-40 grade in the book. This requires expertise. This last step in the process is difficult and mistakes can be expensive so take your time. If many of your coins are in the #2 and #3 coin categories we recommend a professional appraisal.
Now you should have a very good idea as to what your collection is worth.
If you have any questions at any point in this process do not hesitate to call PQCoin at612-371-4739, we are here to help.